I recently became acquainted with Vic (aka Vienesse), a longtime SuperViva member, who has had a life list since 1991. After a number of conversations, I realized that his approach to life and living with a life list could be of great interest. He's an "every day" kind of guy who has a well-rounded, happy, fulfilling life.
We both appreciate Ralph Waldo Emerson's words "It is not the length of life…but the depth of life." I hope reading about his depth of life inspires you…
---
The Life List-Driven Life
Why did you first decide to make a life list?
I went to college at 17 and learned to think critically and to be my own person. Much of this was driven from the philosophy of Gandhi: "We must become the change we want to see". Then in 1991, in an Organizational Behavior course, I was introduced to the life list of John Goddard, often identified as both the world's greatest adventurer and greatest goal achiever.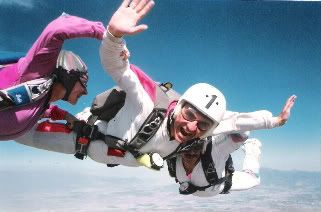 Immediately following, I developed a life list with 97 goals, which has now blossomed to 241. Since 1991, I've collected a variety of experiences that have helped shape my character, personality and zest for life. SuperViva is an amazing tool to help people brainstorm and manage their goals, as well as seek inspiration from other goal achievers rooted in the same motivation…to experience as much of life as possible.
Looking back at your life do you feel your most cherished experiences came from things on your life list?
Getting married and having children are my two most cherished experiences. Bottom line, my priorities are faith, family, friends, work, hobbies. Aside from becoming a husband and father, my most cherished experiences have come from my life list.
Most memorable include: Rome trip (all aspects), poverty work, opening a company, commencement speech, coaching my sons sports teams, principating for inner city schools, attending graduate school, hiking Yosemite and climbing Half Dome (how majestic).
I'm continuously reflecting on my life and updating my list accordingly to ensure that I'm building relationships and creating memorable moments.
Do you do things that weren't on your life list or do you tend to stick to it?

If I do big or little things that are not on my life list (initially), but they make a positive impact on me, I sometimes later add them to the done section of my life list (e.g. see Gin Blossoms in concert). For example, one of my goals is to visit 150 college campuses. At this time, I've seen 126. While I have some very memorable experiences at Princeton, Boston College and Dartmouth, I don't individually list these experiences.
I try not to go overboard in adding ancillary events to my list, as it would become diluted. I've actually considered purging my life list of these smaller achievements, but I like the breadth that they provide. However, when prioritizing what I want to actively pursue, I tend to follow my list.
How often do you update your list to add, delay etc?

My first update was 1998 with a revision in 2002. I made another revision in 2005, then later found SuperViva. Since SuperViva, I'm in my life list and/or on the SuperViva website weekly due to the convenience and community provided. Additionally, I'm beginning to utilize the tools offered via SuperViva (e.g. date goal achieved, ranking, priority, etc.). For the first time, I've considered putting some goals on the backburner.
I often peruse others lists just to see what motivates and inspires people.
You've got a lot on your list. Do you intend to accomplish everything?

I recently added some goals that may be stretch goals. Prior to that, I really only put down what I deemed as SMART goals (specific, measurable, attainable, relevant, time-bounded). However, one thing I learned from the SuperViva community is to list all my ideas.
Bottom line, if the ideas are not listed, I'll forget about them and show them little attention. Since I'm Type A, I wanted to complete the list. Now, I want to add as much as possible to achieve as much as possible. If I don't finish the list, at least I accomplished a lot trying. Ironically, this same topic is a derivative to a screenplay outline of mine.
You jokingly referred to yourself of the Cliff Claven of ideas. But you really do have a varied background and interests.
The reason my career and interests are so diverse are due to my life list goals. In 2002, I left the corporate world to pursue several vocational goals and philanthropic dreams. Additionally, I was a new father and my wife and I wanted to slow life down a little so I could take advantage of seeing my baby boys grow up. I call this time my sabbatical…it was, by far, the most rewarding time of my life to date.
If I truly reflected on my calling and passion, they would be teaching/coaching and writing respectively. The goal that I'm most passionate about at this time is finishing my screenplay. This has been a dream of mine since the early 90s. Unbelievably, I've had two ideas/outlines for scripts that were later similarly released by the studios. Bottom line, this was inspiring as I knew that I was on target.
What is your background like?
From early childhood, I was always influenced by books and movies, especially fish out of water scenarios where characters were taken out of their element and were experiencing new things for the first time, whether they be people to meet, places to visit, things to see, achievements to accomplish. How I longed to build these type of relationships and experience those memorable moments.
Growing up in a traditional Italian, Roman Catholic, blue collar, middle income family, I was told to be conservative, get an education, work hard, and save my money…that all my dreams could be realized after I retired. However, I fought the conventional wisdom of the family, realizing that life is a journey and retirement is not a destination…it's just another time of life defined by a series of days.
What are you most looking forward to?

Next year's Florence trip to celebrate my wife's 40th birthday and finishing my screenplay. While not yet on the calendar, my trip to Australia will be life changing…multi-week, cross continent.
---
Reach Vic by signing in and emailing him from his SuperViva profile. You can start your own list by copying ideas from Vic!
I must disclaim that no compensation was made for the glowing remarks about SuperViva. 🙂
We would love to hear your life list successes and why you first made a list too.