This week we enjoyed "Spare the Air day" in the San Francisco Bay Area, with free transportation until noon. On a rare very warm summer day, this means jam-packed transportation. Which made for a perfect day for my Free Ideas Brainstorm experiment.
My goal: To see if perfect strangers would engage in brainstorms on whatever topic interested them. This would fulfill my love of generating ideas and help whoever took me up on the offer. And of course to promote the joy of a SuperViva life list.
It was scary going alone with a quickly designed sign, wondering if people would think (I mean find out) that I'm crazy. But based on encouragement from good friends – Melea, my life coach Susan, and others – I left the house at 7am, hopped on the BART subway to the bus to the ferry in Oakland.
There the experiment began. It was a blessing in disguise that I'd just missed the ferry, which runs only hourly. That meant a bunch of bored people at my "disposal."
Who I Met
Mike, professional photographer and designer
Mike grew up in the area and was out to take photos on this beautiful day. His main need was to get more business.
What he learned from me: I suggested posting his services on Yelp (the most popular services review site in the Bay Area) and Craigslist, where I'd seen photographers advertise.
What I learned from him: It's good to be able to pitch yourself. I asked a bunch of questions about the type of photography he does, and he was able to answer them all. The answer was: everything!
---
Richie, future security guard / expert janitor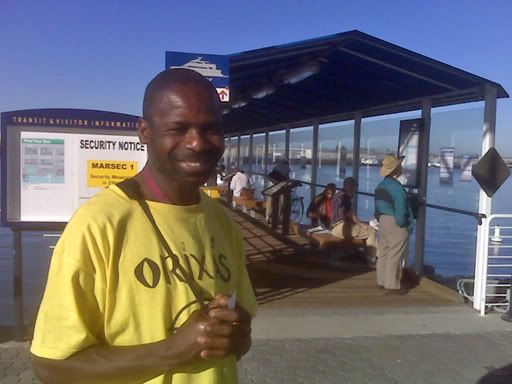 Richie is a happy, hardworking fellow who grew up locally and dreams of world travel—despite the fact that he's never left California.
He avoids frivolous expenses so he can save up for his future travels, especially around Asia. He's enjoyed a career in janitorial work and is working to become a security guard to earn more.
What he learned from me:
First, I told him what his t-shirt meant: that Orixas are spirits from the Yoruba religion in Brazil. Then I gave all kinds of travel tips to help him embark:
I explained how to get a passport.
For traveling cheaply, a multi-country ticket from a company like AirTreks might make sense.
MegaBus has very cheap trips between the Bay area and Los Angeles.
What I learned from him: How inspiring and delightful it is to meet someone who has big ideas about his life and is working toward them step by step. It was really great talking to him.
---
Andy, trumpeter and more
I'm guessing my exuberant response shocked Andy, after he revealed he's a trumpeter with a funky "alternative" marching band I love: The Xtra Action Marching Band. This band does private parties and shows and, in fact, played at an old work party I went to!
What he learned from me: He learned about a fun July 11 music fest at the Oakland Museum.
What I learned from him: He's playing at a voodoo music fest in New Orleans in October, which sounds like a blast (and a perfect life list item). I also learned that many brass instrument companies have gone out of business over the years as they've declined in popularity.
---
Billy Jam, long time DJ, producer etc.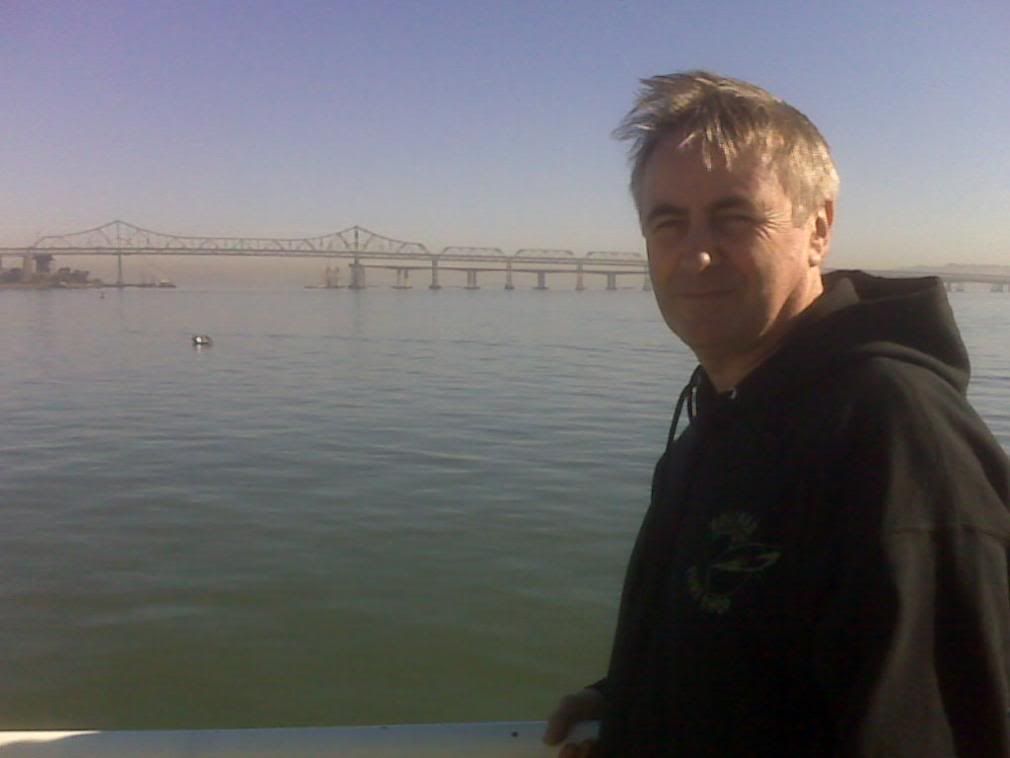 Billy started by telling me that he blogs for Amoeba Records. Bells went off when he I heard his name and I reacted as if I'd met a rock star. He was a major DJ in Bay Area commercial and college radio for years.
Turns out he lives in New York now and is very into street performance art experiments, much like mine, and we had a great lively conversation.
What he learned from me: I told him about the Gel Conference for which he might be a good participant.
What I learned from him: He told me about some women who instantly converted part of a moving New York subway car into a living room, along with curtains, lamp, rugs etc. How fun.
---
John, student / traveler / student / traveler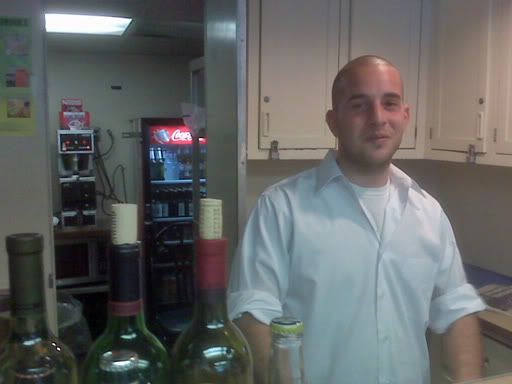 John had recently moved to California from Florida and soon will embark on a several month trip abroad. College age and disenchanted with his major, the one thing he knows is he likes traveling.
His one big goal, which made him really smile animatedly, is to own houses in 2 places and live part of the year in each.
What he learned from me: I told him about careers in Ethnography, which companies like Apple rely upon to study their customers' actual product usage. He vehemently rejected that career path.
What I learned from him: 1) Yes, it might be nice to be able to do some things over again if I knew then what I know now! 2) It's nice to know what you want. Or don't want.
---
Tatiana, marketing maven and sustainable food expert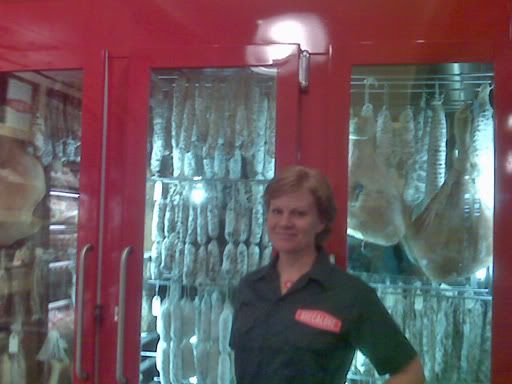 Tatiana is head of marketing for Boccalone [vegetarians may not want to go there] whose artisan pork salumi shop had just opened in the San Francisco Ferry Building. This business is one of those kismet stories where just as they were looking for a facility, they found a retiring Portuguese sausage maker who wanted to sell his Oakland factory. There, they cold cure the pork salumi, proscuitto, and other meats using old world techniques. (Oakland and nearby towns are sausage central, with a strong Portuguese heritage, including Gallo salami and Aidells sausage.)
What she learned from me: Her mind was fully on the shop. So: nothing!
What I learned from her: I'm the one who benefited from this brainstorm attempt.
My world is small and tightknit. It thrilled me to learn I know one of Boccalone's co-founders, the infectiously happy Mark Pastore, who also runs the popular Incanto Italian restaurant in San Francisco's Noe Valley area. His persistence and dedication to realizing his vision for the restaurant (after a former career in software) has always impressed me.
I also learned that "boccalone" means "big mouth" in Italian. It refers to her husband, Chris Cosentino, who also is part of Incanto and was on the Next Iron Chef.
And most importantly I learned that maybe it's time I finally get involved with the farmer's market and again with Slow Food.
---
Pam, Future chef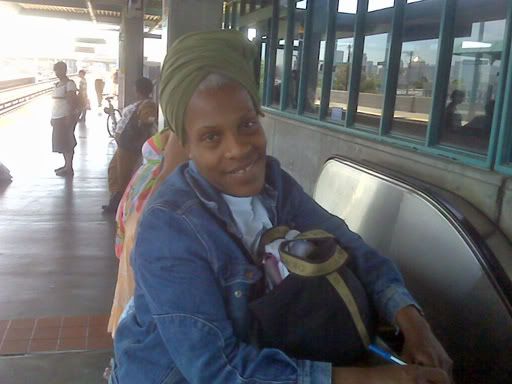 New to the area from Illinois, Pam had already started culinary school when she moved to the bay area to complete her schooling.
What she learned from me: I told her about Tante Marie cooking school, as an alternative to the "big" very expensive ones. And also told her to go to the Saturday farmer's market at the San Francisco Ferry Building, where she would have culinary sensory overload, in a good way.
What I learned from her: She filled me in that San Francisco has a Cordon Bleu school which I had not realized.
---
Unnamed Woman in hospitality sales
During a short bus ride I learned that "Jane Doe" works in hospitality sales and is hating her 2-3 hour daily commute. She wants to get a job close to home…with very little flexibility. I was surprised that after enduring such a long commute, even changing to a 15 minute commute would be too far for her.
What she learned from me: I suggested she should probably go into telesales if she wants to work within a mile of her home, which is on an island. I think she knew that though.
What I learned from her: When you have your priorities, you have your priorities.
---
Krista (career unknown)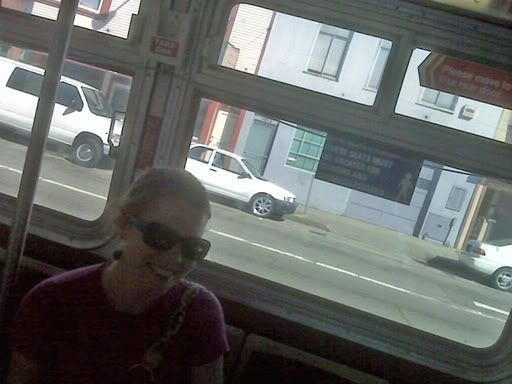 I only had 2 minutes to talk to Krista. For some reason I didn't want to ask her what she's doing now with her life, although she wants to have more time for projects—but didn't have any in mind.
What she learned from me: Of course I told her to get thee to SuperViva for ideas!
What I learned from her: It's hard to brainstorm in a 2 block stretch.
What I Learned
It's not so bad acting weird in public by yourself. Some of the most famous weirdos on the streets are solo performers, right? While, yes, the world loves couples and groups, acting alone will impress you and it will impress others. Be fearless!
Signs are good. Having a sign gives people a heads up about what you're doing. Then you don't have to "pitch" them from scratch verbally.
People who work or have interests similar to mine have the luxury of being out and about in the morning. Namely musicians, people who travel, and those into food.
Taking improv classes and learning how to speak spontaneously through Toastmasters continues to help me.
I want to do this again! It was so much fun.
If you enjoyed this experiment and story, please "Digg" it and/or link to it to spread the word! Thanks
Add comments and ideas here of other experiments or things you want to brainstorm!
---
Update:
Billy Jam who writes The Amoeblog, the blog for Amoeba Music, has a lovely
follow up interview
about me, Superviva, and this interesting day.